Do you work for the worst boss ever? Many of us have been in that position and the only solution we can find is to leave. In fact, I was recently talking with a woman who'd been with a company 10 years but was so unhappy with her current boss that she felt certain the right path was to quit.
Watch this short video to hear about our discussion and the advice I shared with her:
While you are still under the direction of a boss that is a challenge, step back from the emotion of the situation and look for the lessons you can learn. We often learn more from the most negative of situations. What makes this person a bad boss? Communication style? Power struggles? Ego? Inconsistencies? Lack of decision-making abilities?
Capture this information and compare it to the traits of a boss you have had that was effective and motivated you to succeed. This new knowledge will be helpful to you as you grow in responsibilities within your industry.
If, however, you are still inclined to leave the company, check out the article from LifeHacker – the dos and don'ts before you quit your job. 
Finally, if you have tried everything you can think of, and you're still not seeing the light at the end of the tunnel, ask yourself again: Would leaving your current job make you feel more relieved than anything else? If the answer is still yes, it's probably time to look for other work.
 Make sure that you seek a new opportunity before you quit and be professional in the exit process. Be careful not to burn bridges or harm any relationships you may have developed over the years. These people are part of your network and may become important in a different capacity in years to come.
I invite you to visit Tech Savvy Women TV for more great business videos.
TechSavvyWomen.TV provides leadership advice for career women looking to increase their impact and results. Before you quit a bad manager, be sure to investigate your options. Many organizations are eager to retain professional women with years of experience, which mean you have leverage.
Leadership strategies are learned. Check out all our leadership videos on www.TechSavvyWomen.TV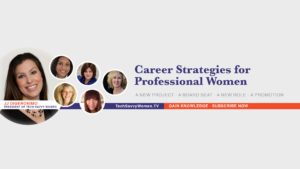 JJ DiGeronimo, keynote speaker for women in leadership, diversity in business and advancement for women.