"Who run the world? – girls!" That is Beyoncé's take. But first we have to help with funding women owned businesses.
The same gender bias that keeps women from positions of leadership seems to be hindering women from obtaining the financial backing they need to explore their entrepreneurial goals. Gwen Moran of Fast Company explored this problem further:
Lack of access to capital is a problem that affects the entire growth trajectory of many women-owned businesses, says Amanda Brown, executive director of the National Women's Business Council (NWBC), a nonpartisan federal advisory council created to serve as an independent source of advice and counsel on economic issues of importance to women business owners. The organization's 2014 report, Access to Capital by High–Growth Women-Owned Businesses, found that, on average, men start their businesses with nearly twice as much capital as women ($135,000 versus $75,000). This disparity is slightly larger among firms with high-growth potential ($320,000 versus $150,000), and much larger in the top 25 firms ($1.3 million versus $210,000).
So what resources are available to help funding women owned businesses?
Entrepreneur Magazine spotlighted a few grants that are available specifically for women interested in funding their business ventures.
BEN RASHKOVICH of Fundera has compiled a listing of 30 organizations interested in funding women owned businesses including:
SBA'S WOMAN-OWNED BUSINESS PROGRAM
The Small Business Administration's Woman-Owned Business Program gives businesses at least 51% owned and controlled by women resources and, at times, access to grants, funding, and even federal contracts for woman-owned businesses in 83 industries where women are underrepresented. It's worthwhile for a serious entrepreneurial woman to have a look at this federal program. Contact your local SBA office for more information.
Why is this information important? Womenable shares just a few important statistics as it relates to women owned businesses. From the 2015 report:
The number of women-owned firms in the U.S. continues to climb, and is now estimated to have surpassed 9.4 million enterprises – 30% of all businesses in the country;
The revenue generated by these enterprises is now estimated to stand at nearly $1.5 trillion, and has increased by 79% since 1997; and
Women-owned firms now employ over 7.9 million workers (excluding owners), providing one in seven jobs among privately-owned businesses.
If you are interested in starting a business or already own a business and are considering seeking funding to take your company to the next level; you may want to seek out a financial adviser. According to Amanda Brown:
"…because women tend to bootstrap longer, using personal credit cards and funds to keep their businesses going, they're more likely to suffer dings on their credit report from high debt loads or late payments. That can make getting a loan more difficult, too, she says. Together, all of these factors stifle the growth of women-owned businesses."
From the Fast Company article we learn about a company geared towards providing women business owners the financial guidance necessary to help them successfully obtain financing:
Deborah Jackson and fellow Wall Street veteran Andrea Turner Moffitt founded New York City-based Plum Alley Investments, a private investment platform that connects women entrepreneurs with people who want to invest in their businesses. Women need mentorship to show them how to think bigger and grow their businesses, she says.
If being your own boss is a goal – make sure you do the research necessary and seek out the help of others who have already successfully navigated the world of financial capital.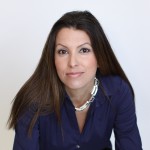 JJ DiGeronimo, keynote speaker for women, based in Cleveland, presents keynote addresses on women in leadership, diversity in business and advancement for women.