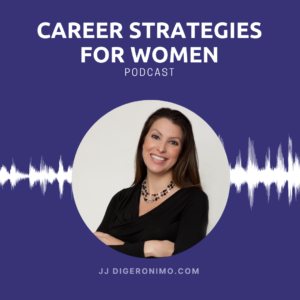 Episode 6: Strategically Sharing is Not Bragging
How often do you roll or scale back the information you share about your professional accomplishments? Do you even realize you are doing it?
Research has shown that women use twice as many words on their resume as men, but only a third of the detail. If you marry this fact with another — that men are often assessed on what is possible, where women are assessed on what they have already accomplished — you can see why it becomes incredibly challenging for women to get to that next level of impact in the workplace.
1:56: Being strategic about making certain key decision-makers, allies and liaison know what you are working on is key.
6:02: A few questions to get started:
How do you keep track of the projects you are working on?
Are you sharing action-based metric-based content?
Do you think of sharing accomplishments as bragging?, or
Do you use them as a tool to cultivate conversations and a launching pad for where you want to have impact next?
7:56: Here I share eight specific questions to get yourself thinking. They are included in the free worksheet above.  With theses, I often encourage women to add them to their profiles, bios and discussions as they are looking to create more momentum based on the accomplishments they have already had.
19:12: The framework for a three-line value statement, which is also included in the worksheet! This frameworks has helps develop something more than just an elevator statement. It encourages people to ask questions, make connections, or provide guidance. This easy approach helps you outline accomplishments, your current contributions and future aspirations. Plus it can help facilitate conversation with career catalysts.
23:40: Feel free to share your accomplishments with me. You can send me a DM in LinkedIn, or a message on one of the social platforms.
Feel free to share this podcast with a girlfriend or somebody at work, or even your women's group. I think so many of us need this real advice based on research that gives us the confidence to show up in a new way.
So, for those of you that have been share your accomplishments, congratulations, and if you can help other women and men share their accomplishments, talk about their goals and practice their ask. You can be helping a whole generation of workers that can blow the doors off what is possible because they have people like you in their lives that are encouraging them to take that next step.
Thanks for listening!
Research & Stats Referenced
Podcast Sponsor
OR: the alternative creates vegan skin care products for people who are looking for a natural solution to their adult acne, eczema, dry skin + other skin conditions.
OR's mission is to remind people everyday that better, all-natural alternatives exist. They endeavor to create your new favorite vegan skin care products by perfecting all-natural recipes that are developed by OR + approved by their customers.
OR is the alternative. https://orthealternative.com/
Discount Code: ACCELERATE for 10% off your purchase
My favorite product: RADIANCE oil facial serum + face moisturizer – Jojoba, almond, vitamin E, and grapeseed oils work as a light face moisturizer to keep your skin naturally glowing. OR's carefully balanced blend of rosehip, lavender, rosemary, and tea tree essential oils penetrate deep into your pores to help reduce fine lines + wrinkles and even skin tone.
Other Podcast Episodes for Women in Business
Learn more insights, tools, and inspiration for you to gain the momentum you need to catapult in the direction you desire.
Each Podcast is short action-packed! 
Feel free to share with more women!