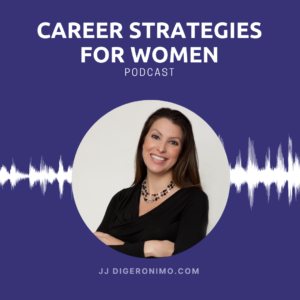 Episode 8: Why Women Need Sponsors at Work
I spent over two years reading articles, white papers, books, watching videos, and listening to podcasts to better understand why more women weren't running departments, leading teams, or even on C-level boards.
Is it that we don't want it? Or is there something else standing in our way? Through my research, a lack of sponsorship was something that continued to surface.
But at the time, I can't say I was completely clear on what the difference between a mentor and sponsor even was, let alone if I had ever had—or needed—a sponsor.
With this, I share in this episode:
When women need a sponsor,
How they differ from mentors,
Why women struggle to find a sponsor, and
How to spot and meet potential sponsors.
If you are somebody who aspires to create more influence and impact, it is likely that you need a sponsor. 
The people making decisions about your goals, your alignment, and potentially even your next steps are people other than you. And those are the types of people you need in your network, with knowledge of the specific details about your accomplishments and aspirations. So they are aware of what you're aiming to achieve next, what projects you hope to get aligned to, or what things you wish to get off the ground.
Sure, hard work can get you most of the way there, but there are often meetings, discussions, rankings, and decisions that you're not privy to, which is why you need a sponsor.
3:46 –  As women, we often think that we can do it alone or we're unsure of whom to ask for help when we do need it.
There are many terms out there, such as allies, champions, and advocates—but I use mentors and sponsors for the sake of this discussion. These are people we need in the rooms and networks we don't yet have access to in our current position. And if you're anything like I was before I researched my book,  Accelerate Your Impact, you probably had no idea that you need these people in your corner.
7:27 –  Now, word of caution. Before you start asking people to be your sponsors and speak up on your behalf, you must put in the work. We want help, and we're eager to ask for help, but sometimes our delivery and preparation are not where it needs to be. So I encourage you to check out my online course, how to find an align with mentors, sponsors, and career catalysts, which can help you prepare for these instrumental conversations. (I've included a 35% off coupon in the downloadable worksheet for this episode too!) I can assure you that you do need to prepare, because often, you need to put together material that empowers people to speak on your behalf—and this is not always something you can do on the fly.
8:22 –  I encourage you to take the time and prepare not only for where you want to have influence and impact next, but also for the types of career catalysts you may need a mentor for.
What type of catalysts do you need to help push your goals forward? And then when you identify them, what specific information do you need to provide your sponsors in order for them to do so? Prepare this information and  give them the material they need to represent you in the rooms that you're not invited to or the conversations you do not have access to at this point.
Take the time before you start making phone calls and asking for help. You do need to put in the time. I've included a worksheet, which you can download above with your email address, to help you figure out who you know who can serve as your different career catalysts.
10:50 –  By now, you may have picked up that having a sponsor is more about access and visibility than I first acknowledged. Initially, I did not realize that many of the reasons women are not moving above middle management are because they don't have people in rooms speaking on their behalf, which is essential, because often, their work doesn't have the same level of visibility as their peers may receive.
11:43 –  It's essential to realize that men and women are rarely sponsored the same. In researching this topic, I came across this article in Harvard Business Review called What Men Can Do to Be Better Mentors and Sponsors to Women, posted August 07, 2019, by Rania H. Anderson and  David G. Smith (with research from Working Women's Research Institute and Center for Talent and Innovation). I've referenced their research on several occasions because it digs into the nitty-gritty of why things are not moving in the direction that we hope as women in the workplace.
11:05 –  It's not surprising why women in the workplace don't have as many sponsors as men. Organizations that are putting efforts into increasing their diversity and inclusion have to focus on the people they mentor and sponsor, especially the people coming up through the org chart. So if you're having challenges finding a sponsor, it's not uncommon—many of us do as women—but it's also not impossible to find those advocates.
14:06 –  When I share research with you, I hope it does not discourage you. My intention in sharing is to give you hope that yes, we may be more challenged, but this knowledge empowers us. And, now that we know, we can make a more assertive effort to align with people who value diverse talent and who are open to making meaningful connections to ensure that diversity and equality.
Reciprocation: If we'd been in the workforce for five, 10, 15, 20 years, we could easily be a sponsor to other women working their way through their careers. So, as you're thinking about this material, think about people that you are (or could be) mentoring and sponsoring.
Are you only picking people that match your gender and race?
Are you stretching beyond the demographics that you're familiar with to mentor and sponsor people coming up?
Here I'd like to mention that not everyone you mentor and sponsor has to necessarily be in your workplace; you may mentor and sponsor people in your neighborhood, in your community, or through your religious organizations. There are many opportunities to be a mentor or a sponsor to other people in all aspects of your life. Hopefully, you're making a list of people you might need to help you and thinking about who you can help in your sphere of impact as well.
15:54 –  I hope this episode, Why Women Need Sponsors at Work, inspired you to think about your career in new ways and to put together a strategy of people who can help you facilitate future steps.
Don't be afraid or disappointed as not everyone you think of is going to help; there are many people along the way that have good intentions but get busy or distracted and don't end up coming through in the ways you think they will.
Be sure to download the worksheet for Episode 8, and if you enjoyed this episode, be sure to rate and review it so more women can find it.
Links:
Other Podcast Episodes for Women in Business
Gain the momentum you need to catapult in the direction you desire.
Each Podcast is short and action-packed!
Share with women in your network!