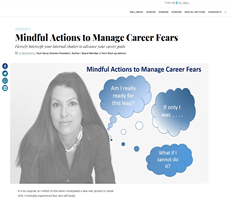 Episode 9: Sidestepping Self-Doubt
When I reflect on times when I was eager to take a new role, position, or new project, or even shift the direction of my career, I did not realize that self-doubt held me back in so many ways. Not just in my career, but really, my life too.
My thoughts would often be peppered with fear of losing it all, or I would question if I was enough or worthy or jump back into the fear of not being accepted or not belonging, and then layer on top finances, titles, career choices.
It's not surprising that self-doubt hinders some and maybe many of our career steps.
3:40 In a fantastic book, The Confidence Code: The Science and Art of Self-Assurance—What Women Should Know, written by Katty Kay and Claire Shipman, the authors outline the generic dispositions and the environmental factors that contribute to confidence. And, as part of their research, they found that women take significantly fewer risks than men. This leads to lower confidence levels, which often stifle our career growth. Further on in their book, they share that success, it turns out, correlates just as closely with confidence as it does competence.
I think for many of us, we're so eager to be competent all the time that we don't take the risk in fear of letting other people down, which ultimately impacts our confidence. And if we don't have confidence in our ability, we surely aren't going to take action to move forward. 
Many of you may have heard of imposter syndrome or self-efficacy, which I discuss in Episode 3: Leaping from Impostor Syndrome to More Self-Efficacy.
In this week's episode, I want to talk about how self-doubt can often convince us that we're not ready and when we're not ready, we often don't take action.
Let's dive into those thoughts, how we manage them, and how we can use them as tools to find a bigger purpose! This can allow us to leap over self-doubt into confidence that creates action and movement in the direction we desire.
5:35 It's so important to notice when self-doubt occurs and what I say to myself when it appears. This isn't something that's come easily to me, since I'm often too busy in my to-do list to recognize or really listen to the stories I'm telling myself. It wasn't until I developed a mindfulness practice that I gained that important insight.
6:10 After I learned how I talked to myself, I then had to dig a little deeper to understand where those stories started. And for many of us, these stories could have started when you were a child or in college, on your first job or even just your last job.
6:40 These stories can hinder our ability to take action. I compiled a list of stories women often tell themselves in my second book, Accelerate Your Impact. My goal was (and is) to help women identify the stories they tell themselves. You can check out the chart below. With each story, did you allow that fear to hold you back or did you push forward despite the fear?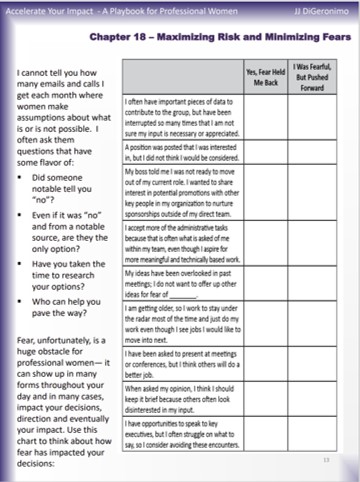 Take a minute to think about what the stories you tell yourself may be.
How do you hold yourself back?
What things do you tell yourself? And,
How often do they determine your actions?
9:50 I few years back, I enrolled in a program called 'Mindfulness' by Jon Kabat-Zinn, which was being offered by University Hospital, and my teacher, Suzanne, kick-started my ability to recognize my own stories.
After many discussions, I yearned for more joy and fulfillment as I wasn't enjoying all my hard work manifestation. So many people I knew had pointed me towards practicing mindfulness for years, but I just didn't think it was my gig, and I wasn't interested in being quiet and sitting still. (Can you relate??) This still makes me laugh.
10:40 It took several years before I finally ended up in the seat on Sunday afternoon for a few hours in my Mindfulness class, little did I know then that it was more about being aware of what was happening in my mind than about just sitting still and quietly.
11:30 Truth be told, it took me several weeks to develop enough patience, awareness, and acceptance to sit still. Now, at the same time I signed up for this class, I was reading Brené Brown, Rising Strong: How the Ability to Reset Transforms the Way We Live, Love, Parent, and Lead. She shares specific actions to create separations from your ego by digging deep into your thoughts and weeding through your emotions. Her exercises help you come out on the other side with more knowledge and awareness of how your thoughts, actions, and outcomes are all intertwined.
If you marry this with a mindfulness practice, you really can have the ability of understanding, not only the thoughts you're having, but where those thoughts stem from in your life. This often sets your trajectory of how you feel in a particular situation, which drives either self-doubt or more confidence, which, consequently, affect the actions you end up taking in your life or career.
13:03  If you're like me, and you want different outcomes and to take different actions, learn from me. Sometimes you have to slow down now in order to be able to accelerate later. As part of this discovery, I had to create practices that allowed me to understand the stories I told myself regularly. And then I had to dig a little deeper to get into where those stories stemmed from and focus on how I felt based on those situations.
Creating space to understand our thoughts and the meaning behind our thoughts can give us the ability to accelerate our trajectory.
15:35 What is the bigger mission here at hand?
For me, if I can attach a more significant purpose or meaning to my work, I can often reason with myself that my fear is minimal based on the potential impact.
16:00  The benefits of masterminds, retreats, and online groups have been instrumental for me in learning, connecting, and even changing my frequency. That's the energy in which I want to resonate.
Suppose you too are seeking a new level of impact. In that case, I encourage you to seek out ways to connect with like-minded women or men to gain additional momentum based on different ideas, information, and connections.
17:00 Join me as I create and launch FUEL YOUR INSPIRATION, a unique way for us to come together to explore insights, gain awareness, and create momentum. If you're interested in learning how to fuel your work, your life, and your goals, and you want to join a group of women who will support you as you work on it together, be sure to sign up here, or you can DM me on any of my social media platforms. I'll be sure to include you in the initial launch for women like you that want to connect, learn, grow, explore, and expand what is possible.
Articles
Books
Online Videos
Referral Sponsor