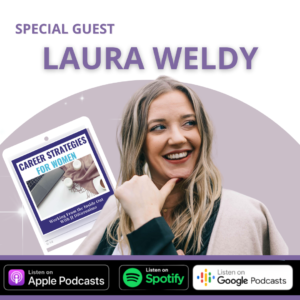 Episode 51: ERGs - Enhance the Impact of Women at Work with Laura Weldy
ERGs – Enhance the Impact of Women at Work with Laura Weldy 

We've seen the representation of women in leadership roles across all industries decline since the pandemic began, and women focused ERG's provide a great jumping off point for who and how to grow in house leaders. 

In fact, women's focused employee resource groups are a widely underleveraged opportunity for many companies to deepen their leadership pipelines and develop some of the most high potential, most culturally engaged employees in the company. 

By strengthening the structural support for these groups, allocating time and opportunities for group activities, gamifying the membership process and even devising in house training programs based on the group needs, there is an opportunity to allow new leaders to step up and shine.

Join me as I chat with Laura Weldy.  A Women's Leadership & Career Success coach, and an unapologetic champion for women seeking to build a career & life they love. 

After struggling with burnout, impostor syndrome and uncertainty in her own career, Laura decided to eliminate these issues for other career women.
 These days, she uses her Personal Power Code personality assessment to help ambitious career women around the world put a vocabulary to their own worth in the workplace. She pairs this with her expertise as a masterful certified coach & NLP practitioner to create customized roadmaps for her clients to go from overlooked and overworked in the 'Pre-Suite' to celebrated and confident in the C-Suite as intuitive and authentic leaders at all levels.
Thank you for joining me ~ here are some other resources for you!