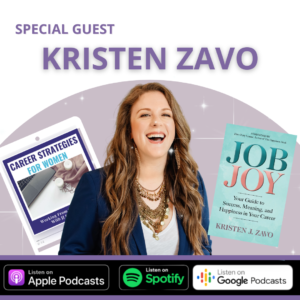 Episode 45: Establishing Influence at Work with Kristen Zavo
Questions we discuss:
What should you ask yourself?
What do you need to invest in?
What are the fears of success?
Are you stuck in the should?
How do you maximize your influence?
Where do you want to be in your work and life?
Kristen Zavo is a career coach, keynote speaker, and author of the international best-seller Job Joy: Your Guide to Success, Meaning, and Happiness in Your Career. In her coaching practice, she works to help high-achieving professionals land jobs, launch businesses, and build careers they love. 
After nearly two decades working in top Fortune 500 companies, Kristen found herself having checked all the career boxes but feeling the unhappiest she had ever felt. 
She bravely quit her finance job in New York City and within six months she landed a job and promotion in an entirely new sector. Colleagues and professionals in her network took note and began turning to her for help to do the same.   
What began as a career coaching side hustle turned into her most fulfilling pivot to help thousands secure fulfilling jobs. Currently, Kristen helps corporate-climbing professional clients define success on their own terms, land their dream job, and build a career they love through her 9-month live coaching and mentorship program Find Your Job Joy.
She is also recognized as a thought leader in her industry having been featured in The Wall Street Journal, Forbes, Business Insider, Yahoo News, Real Simple, and CBS News, among others.   
Beyond bringing clients job joy, Kristen loves to create her own joy which frees her up to travel, take on adrenaline-pumping adventures like skydiving (bungee jumping is next!), and trying new recipes.