Episode 49: How to Ensure You're NOT Leaving Money on the Table with Claudia Miller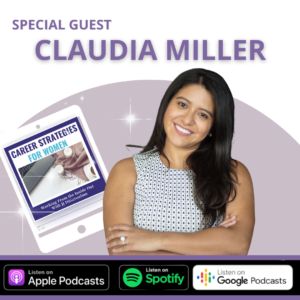 How to Ensure You're NOT Leaving Money on the Table with Claudia Miller
How often do you take a new role or promotion and hear, "We just don't have any more money for you?" or "Sorry, we cannot give you a raise?"

How do I get a raise in my salary at my current company and what does confidence have to do with it?

Claudia Miller is a sought-after Career Coach for Women In Tech and she's helped her clients land fulfilling jobs at a senior level. She also partners with companies and organizations in identifying rising stars within their organizations and providing strategic insights and support in developing a leadership and talent pipeline with a focus on Women and Women of Color. Due to her efforts, she's worked with Top Fortune 500 Clients + has partnered with World Business Chicago in developing a Workforce Development strategy in coordination with the City of Chicago's efforts to decrease unemployment rates for persons of color. She's also the Creator & Host of "Roadmap To The Executive Suite" podcast. Due to her client's success, she's been featured multiple times in Forbes, MSNBC, Thrive Global, and Business Insider putting her in their top global list of Top Innovative Career Coaches.


Thank you for joining me ~ here are some other resources for you!

Take a peak at the reviews for my new book Seeking: https://www.amazon.com/Seeking-Findings-Energy-Sidestep-Self-Doubts/dp/B0BKQCWJ62