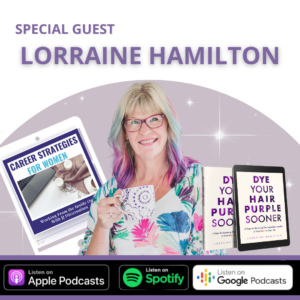 Episode 38: How Women at Work can Leverage the Double-Bind" with Lorraine Hamilton
In this episode of the Career Strategies for Women podcast, feminine leadership expert, Lorraine Hamilton, discuss the double-bind for women in the workplace.
Lorraine is a former engineer, voracious tea drinker and wannabe race car driver. She is also the founder of the Feminine Success AcceleratorTM and has spent the past 16 years coaching ambitious high-achieving women, writing books and mentoring hundreds of other coaches to greater freedom and success.
This led to her being hand-picked by the Emmy award winning media entrepreneur Natalie MacNeil to become Program Director at the
cutting edge and global ICF accredited coach training provider Coaching Evolved. Never one to shy away from a challenge, she has recently run a phenomenally successful first TEDxKāpiti event and consistently gets out of her comfort zone performing stand-up comedy.
She believes that feminine leadership is what the world needs right now, and having previously led a team of engineers to create an award-winning culture, she knows a thing or two about it.
Articles + Resources