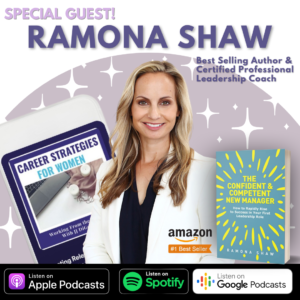 Episode 41: How You Think is How you Lead with New Leader Expect Ramona Shaw
In this episode of the Career Strategies for Women podcast, leadership expert and best selling author, Ramona Shaw, talks about how our thoughts influence our behaviors and why therefore you have to grow, expand, and update your thought patterns to become a more effective leader to others.
JJ and Ramona also discuss common leadership challenges and why the root causes to these challenges lie in the leaders' mind and have a lot less to do with skills and habits than you might think.
Plus, Ramona shares how leaders can change the way they think to become more confident & competent leaders people love to work for.  
Ramona Shaw is a Certified Professional Leadership Coach, podcast host, and best-selling author of "The Confident & Competent New Manager: How to Rapidly Rise to Success in Your First Leadership Role." 
She is passionate about helping new and mid-level managers become leaders people love to work for by strengthening their leadership and communication skills, raising their confidence and resilience, and increasing their focus and emotional intelligence.
After graduating with a Masters Degree in Finance, Ramona entered the field of private equity and ultimately led strategic projects and international teams as a VP of Client Services at a renowned global private equity firm.
She now specializes in delivering coaching and training programs for leaders at fast-growing startups and companies such as Twitch, UBS, Google, Dropbox, Lionsgate, Asana, Stitch-Fix, Sequoia Capital, and dozens of others.
Ramona regularly shares insights to her over 8,000 LinkedIn followers, nearly 2,000 Instagram followers, and via her podcast, The Manager Track, with new episodes published every week since April of 2020.
Articles + Resources