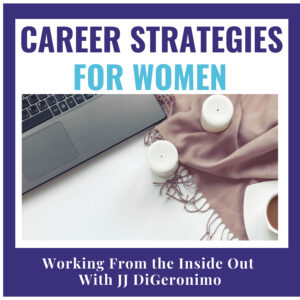 Episode 39: Overcoming 3 Common Blind Spots of Women in the Workplace
Professional women are subject to blind spots—obstacles that can minimize career potential, impact, or advancement. On Career Strategies for Women that Work, master executive coaches Brenda Wensil, MA, and Kathryn Heath, PhD, who recently published I Wish I'd Known This: 6 Career-Accelerating Secrets for Women Leaders with Berrett Kohler Publishers, will discuss the three common blindspots for women in their careers, including Preparation and Practice, Reputationality and Installing a GPS for Your Career.
Preparation and Practice – women stay so busy they tend to under-index on skills related to crafting a point of view, knowing who to influence and how to show up for presentations and informal, important conversations. Practice works for professional performers, and it works for us too. It creates confidence, influence and personal power.
Reputationality – It is critical to know how you are regarded by key constituents and whether that is what you want. When women combine the credentials and experience of their reputation with the unique essence of their personality, a powerful differentiation occurs. We call this Reputationality.
Installing a GPS – Careers can go off the rails if we don't know where we are along that journey. Getting work done is only part of getting the job done. Developing the art of cultivating feedback is a leadership skill that is imperative to improvement, advancement, and sustainability.  Don't operate on autopilot. Guidance and feedback can help you make course corrections to reach your destination faster.
Brenda and Kathryn, who have spent decades coaching more than 800 women and conducted more than 4,000, 360°-style interviews across myriad industries comprising a wide range of age groups, will share how women can overcome these blindspots, accelerate through obstacles on their leadership paths and set a vision, strategy, and plan for their careers.
About Brenda and Kathryn
Brenda F. Wensil is managing director at Bravanti. She was previously an executive leader for First Union (now Wells Fargo), and she established the first customer-focused strategy for the federal government as chief customer experience officer at the US Department of Education's Office of Federal Student Aid. See more about Brenda on LinkedIn, Amazon, and Goodreads.
Kathryn Heath, PhD, is a founding partner at Bravanti, where she has served as a coach, trainer, and developer of leadership programs for twenty years. She also served as SVP and director at the nation's fourth largest bank, First Union (now Wells Fargo). See more about Kathryn on On LinkedIn, Amazon, and Goodreads.
Articles + Resources