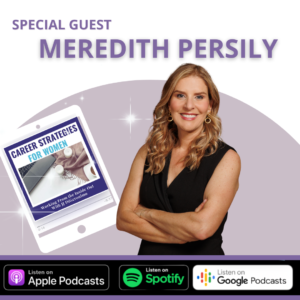 Episode 50: Thriving Through Career Transitions with Meredith Persily
Thriving Through Career Transitions with Meredith Persily
Join us as we talk about how to get off on the right foot during a career transition!
Did you know 50% of executives fail in the first 6 months when joining a company?
There are key tools you should be aware of if you want to thrive in a new position inside your existing company or as part of a new company.
In this episode, Meredith and I discuss:
3 focus areas in your new positions
How to work with stakeholders
Your 1st 90 days
Meredith Persily is CEO and founder of executive-coaching firm Aspire@Work, a consultant and facilitator. She specializes in the leadership challenges of complex, global organizations in government, technology, healthcare, and financial services.  Leaders call on Meredith to challenge their management teams, facilitate the development of their vision and strategic goals, and instigate transformation. With an MBA and professional coach certification, Meredith brings her deep business background, understanding of neuroscience, and a variety of leadership assessments to her clients.
Her book: Six Paths to Leadership: Lessons from Successful Executives, Politicians, Entrepreneurs, and More
Whether just starting a career or an experienced professional, today's leaders lack the skills needed for their particular journey. Drawn from interviews with more than 60 successful leaders (executives, politicians, entrepreneurs, and others), this book offers new critical insights and strategies for managing across six distinct paths to leadership positions. 
Six Paths to Leadership: Lessons from Successful Executives, Politicians, Entrepreneurs, and More offers new, research-based critical insights and strategies for managing effectively across six distinct paths: (1) promoted; (2) hired; (3) elected; (4) appointed; (5) founded, and (6) family legacy. Each chapter provides information based on interviews with more than 65 leaders from a variety of career paths and backgrounds, including executives, politicians, high-level government appointees, founders, and family business leaders. 
Individuals such as current and emerging leaders, HR professionals, researchers, politicians, career coaches, students (along with their support staff members) will benefit from the wide array of strategies and experiences detailed in this rich resource. The stories and themes herein are designed to help leaders—whether newly-minted or seasoned professionals—weigh factors that influence effectiveness, along with strategies, tools, and templates to help them adroitly navigate one or more of the six distinct leadership paths.
Some executives interviewed for the book worked their way up the ladder in one company, only to be recruited to fill a C-suite position at a different firm. Others were appointed to high-level government positions after stints as elected officials. The authors identify major distinctions when moving across the six paths. This invaluable resource enables leaders and those who support them to develop greater self-awareness about each path, so they can better leverage and manage their new challenges and opportunities from the first day in their new leadership position.
Six Paths to Leadership is a stark reminder that leadership skills are not inborn; different contexts require disparate skill sets that are rarely taught or discussed. What this invaluable career resource makes clear is that established and emergent leaders rarely consider the distinctions between paths, and what can and should be learned across each one in order to succeed. 
Featured on NPR, in Entrepreneur, SHRM, Roll Call, Politico,
Thank you for joining me ~ here are some other resources for you!