As we seek to increase the number of women in leadership positions, businesses need to examine their coaching methods. What training, coaching and mentoring programs are available to help women advance within your company?
Joelle Jay shares the importance of executive coaching in her article How to Preserve and Promote Women:
More than enough evidence suggests coaching is an invaluable tool to increase the presence of women at the corporate executive level. One McKinsey report found that the opportunity to work with an external coach was identified as "by far the most valuable component" of the leadership programs they studied. In our own research, we found that coaching for executive women has resulted directly in promotions. In one study, over 85 percent of the female senior-level leaders were promoted within the first 6 months of beginning their coaching, and almost all advanced within a year.
That is a powerful testimony to the benefits of coaching. So what are some coaching methods that a company can incorporate to assist in the evolution of women in business advancing into leadership positions?
5 Coaching Methods That Work
Connecting with an outside professional coach. As Joelle states in the above quote, the opportunity to work with an impartial, external coach offers, not only valuable advice but also lacks the internal knowledge that can limit the coaching experience.
Deirdre Sanborn offers three ways that managers can help coach women interested in advancement within their organization:

Listen to their needs.
Help them set goals.
Hold them accountable.

Dr. Ivan Joseph offers several coaching methods and techniques, however, perhaps the most valuable is to teach them to ask:
I once found out that a female employee was upset that I didn't give her a promotion. I was surprised because I did not even realize that she wanted the job. She said that her work should speak for itself and that I should have known she wanted the job. I had given the job to another employee who asked for the promotion. That colleague was a man. It was a shame I wasn't aware she wanted the job as she would have been an excellent candidate.
Encourage your team repeatedly to ask for what they want. Keep all channels of communication open and tell your team repeatedly: "If you want something, ask for it."
4.  Providing training programs internally. Offering training programs to help women develop confidence, learn new skills and work with a variety of company leaders will help in the process of preparing them for a leadership.
5. Encourage mentor-ship programs. Paring a business woman in your department to work with an established female leader will help in developing the proper career path and assist in with making connections for future opportunity.
Whatever coaching methods you use within your organization, remember that offering coaching, training and mentor programs also help to make your company a great place to work. When seeking to attract and retain strong women leaders, these are the types of programs that set a business apart from the competition.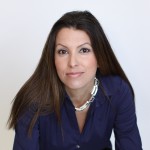 JJ DiGeronimo, keynote speaker for women, based in Cleveland, presents keynote addresses on women in leadership, diversity in business and advancement for women.
Check out JJ's new book Accelerate Your Impact by downloading three free chapters.