The readers have spoken. Accelerate Your Impact has again been recognized as a 'must read' non-fiction book for women. Winning the Bronze metal for non-fiction women's books, The Reader's Favorite 2017 selection is JJ DiGeronimo's latest book. This is the fifth national book award for Accelerate Your Impact.
Here's what the reviewer had to say:
Reviewed by Danita Dyess for Readers' Favorite
Did you know that everything you do on a daily basis aligns or misaligns with your ultimate career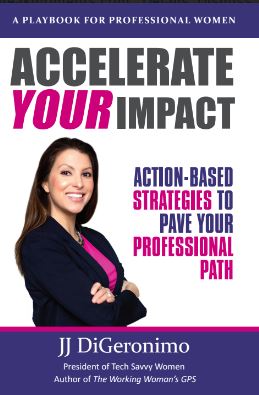 goals? If you are not aware of this fact, then you could be sabotaging your career according to J.J. DiGeronimo, author of Accelerate Your Impact: Action-Based Strategies to Pave Your Professional Path. Studies reveal that men apply for jobs when they are only 60 percent qualified. Women wait until they are 100 percent prepared — a big mistake with negative long-term ramifications. This book has evolved into a tactical road map of actions and areas of focus that will help you manage your upward career path. Learn about strategic conversations with decision makers, the difference between confidence and self-esteem, the importance of networking and conquering imposter syndrome.
I loved Accelerate Your Impact. J.J. DiGeronimo's years of experience as a leader in the IT sector and founder of Tech Savvy Women was evident. With only about 300 pages, her "playbook" was succinct but comprehensive. It was packed with eye-opening research from numerous reputable sources, and graphs illustrating startling statistics. She provided step-by-step instructions with takeaways that could be incorporated into your daily routine. She also acknowledged the fear factor and motivated you to face self-imposed obstacles. Her core message was unprecedented: overlook titles and focus on higher levels of influence. This nonfiction guide is applicable to all women at any stage of their careers and will serve as a reference tool. DiGeronimo is the author of The Working Woman's GPS. Accelerate Your Impact is highly recommended.
JJ DiGeronimo, a speaker, author and thought-leader for Women in Tech and Girls and STEM, empowers professional women and consults with senior executives on strategies to retain and attract Women in Technology to increase thought and leadership diversity within organizations.
Check out JJ's new award winning book Accelerate Your Impact by downloading three free chapters.