Hope is not a career strategy.  Anything worth achieving is worth working for so don't leave it to chance, be ready for the opportunity when it presents itself.
Is what I have achieved the "All" I really want?
Why am I here? We've all asked at one time or another. We begin to ask ourselves the question, What is my life's purpose?  We come to these deep questions at different ages and under assorted circumstances, but invariably the questions find us. When we become aware of such questions, we are likely to pause and consider them.
As we assess where we are and where we want to be, it can be easy to just hope for changes and opportunities to present themselves. However, real life doesn't work that way. We need to develop a clear understanding of where we want our career to go, create a concrete plan to get there and then work the plan.
There is never just one thing that leads to success for anyone. I feel it always a combination of passion, dedication, hard work, and being in the right place at the right time. Lauren Conrad
Since we learn from our choices and their consequences, it's important to re-assess our choices on a regular basis. We may just need to change our attitude; sometimes we need to change our direction. Such changes are not always easy or comfortable.
Life is a school and earth is our school house—we are here to learn. I realize now that the hardest parts of my life were my best teachers; they helped me progress in greater self-awareness and self-understanding. The difficult parts helped me focus my energy and develop greater inner harmony; the tough road is not to be denied or run from, but embraced as a true gift. I can honestly admit that disappointment, betrayal, and failure helped me understand myself more than did my successes and achievements.
I think this is what happens: we need the hard parts to show us who we truly are. Difficulties prompt us to ask the tough questions, and the honest answers keep us on our toes and challenge us to be more than we thought we could be.
Embrace the tough questions and subsequent honest answers. If you aren't where you want to be in your career, in your life, then you have the power to change your current reality.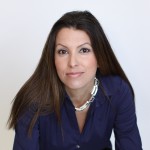 JJ DiGeronimo, keynote speaker for women, based in Cleveland, presents keynote addresses on women in leadership, diversity in business and advancement for women.
Check out JJ's new book Accelerate Your Impact by downloading three free chapters.