It isn't easy facing professional rejection; loss of a job, passed over for promotion or other work related rejections can be difficult to overcome.
Life is designed to knock you down. It will knock you down time and time again, but it doesn't matter how many times you fall – it matters how many times you get back up. Lilly Singh
However, what is most important about professional rejection is the determination to get back up again as well as learning from the experience.
In the Huffington Post article "How to Get Back Up When Life Knocks You Down" the author lays it out for us:
When you've been knocked flat, you've got two choices. You can either lie there on the ground, which might feel like the easiest option, or you can catch your breath and make yourself vertical again.
Over the years, I have been asked to give advice to many candidates and here are a few of the things I tell them:
Work to understand your value in the marketplace – know how you can deliver value to a particular industry, role or company based on previous experience and project
Apply for roles that align to where you can add value – appreciate that throwing a wide net is not always as beneficial as a narrower search where you can share your expertise and potential impact
Recognize that it takes time and many "nos" – I often suggest it takes 7-12 months to find a job so start early as many inquiries and interviews do not lead to a position
Minimize the risk – with so many candidates the interviewer needs to see that you are equipped, ready and eager to take on the challenge of the new position. Risky candidates do not get call back so do the research, practice your answers and know the business/role you are applying
Be Aware that each No is Closer to a Yes – this is a sales phrase but applies to job seeking too.  Dissect your interview, get feedback when you can, assess where you could be more prepared
Ask a friend or hire help –it helps to practice interviewing, to ensure you have a positive and engaging approach with confidence in your delivery and sharing content that ensures the listener that you can handle and excel in their position
Align your online profiles – be sure you interview and online profile align – if you share stats or examples be sure they are also included in your online profile.  Many interviewers check there first before calling or interviewing you.
Be mentally prepared – this process takes time, do not get discouraged as it is a process and eventually you will get a job.
Back to the Huffington Post article, the author gives us permission to take a moment and mourn what we have lost, but if we want to be successful in the future, we have to eventually get back up.
So go on, have your Pity Party. Give yourself some "Aww, poor baby" and get a bit from your friends, too, if you want. But get off the floor. It's a lot harder to stay down there where everything just gets more miserable than it is to come back swingin'.
 Are you ready to get back up and try again?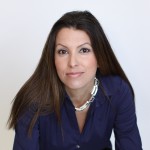 JJ DiGeronimo, keynote speaker for women, based in Cleveland, presents keynote addresses on women in leadership, diversity in business and advancement for women.
Check out JJ's new book Accelerate Your Impact by downloading three free chapters.