There is a lot of focus on the initiative to promote women to leadership positions and there is positive movement, however, the end result of achieving gender equality is going to be a long journey. So how do you keep from feeling disappointment or fatigue over the goal of seeing women and men equality in the work force?
In the Wall Street Journal article How Companies Guard Against Gender Equality Fatigue, the author offers some suggestions.
First step – be accountable:
"—Hold yourself accountable: A majority of companies say they don't hold their senior leaders accountable for performance against gender diversity metrics, or use financial incentives to encourage action. Employees notice: Less than 20% in the survey said they saw leaders regularly being held accountable for performance on gender diversity.
If you want to help keep your organization on track, show your people that senior leaders are taking responsibility for the outcomes of the initiatives they are driving. Forty percent of the companies in our survey do emphasize top management accountability, and many of them are seeing much better results."
Perhaps your company hasn't really installed measurements for their goal to become more equal, however, that doesn't mean you can't hold yourself accountable.
Evaluate your current team members for gender diversity at all levels of responsibility
Examine pay discrepancies – are there opportunities to create a more equal compensation package
Interview your team members to determine what their personal goals are – is there an opportunity to offer cross training, outside education, project manager or other vehicles to assist with advancement
Be creative in your hiring practices to ensure you are seeking a varied talent pool when you have an opening
Contributors to the WSJ article Dominic Barton and Lareina Yee and advise including the men in your company as part of the solution:
"—Make men part of the solution: Less than half of men report that advancing women is an important priority for them. Leaders hoping to bring them on board need to show, through actions, not just words, how things can be different: The data shows that when men think their company or direct manager is highly committed, or get explicit guidance on how to improve from a senior leader, they are more likely to embrace the cause."
Gender equality is not a "woman/man" issue – it is a "COMPANY" opportunity. Bring the men in your organization into the discussion. Make sure they are aware of the whys and benefits of gender equality in business. It isn't meant as a threat but rather as a way to build and grow a company for the future.
What is the Gender Equality Balance Today?
The WSJ article offers the opportunity to show where we stand today versus where you might think we stand. Knowledge is power. I took the survey – my responses are the light grey dots and the actual number of women at each level of the business is the dark dot.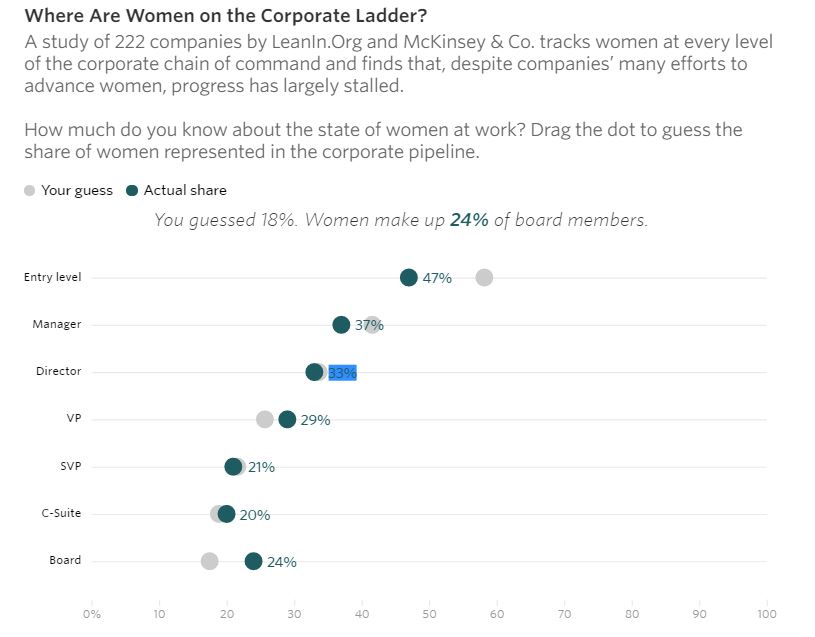 We are moving in the right direction. We have to keep the conversation going!
JJ DiGeronimo, a speaker, author and thought-leader for Women in Tech and Girls and STEM, empowers professional women and consults with senior executives on strategies to retain and attract Women in Technology to increase thought and leadership diversity within organizations.
Check out JJ's new award winning book Accelerate Your Impact by downloading three free chapters.