Are you open to the leadership lessons life has to offer? Life is a teacher; we are its pupils. Whenever a challenging situation arises, I ask myself, What am I meant to learn from this?
For example, I've learned, through multiple opportunities, to be patient with myself and others. Over and over, I've been tested in this area through challenging and often frustrating situations. These situations have honed my skills and ensured I was ready to embark on a more complex, important, and fulfilling journey. Learning patience may not be your lesson, but I bet life is testing you in some way, like a teacher, hoping you "get" the lesson.
My patience was continually tested whenever I was engaged in project-based work. I was driven to either initiate the project or complete the project.
My gung-ho work ethic and take-charge attitude wasn't always what was needed for the ultimate success of the project. Through a series of good and bad situations, and with the help of some great mentors, I had to learn that being a leader means stepping back from the actual work and recognizing and embracing the strengths and talents of other people. It was more important that I learned to encourage, guide, and mentor others to take the leadership role than always taking the lead myself. One of my important life lessons about patience translated from work projects to other situations in my community and at my children's school.
I had to reflect: Yes, I can choose to lead every project inside or outside of my office, but should I? Is this the best use of my time? I learned that if I gave others a chance to lead, and myself a chance to follow, I had energy left to focus on other initiatives.
Life always presents us with opportunities to grow.
I have to admit that patience was a tough lesson because it meant that timelines might be extended and outcomes could differ from my expectations. The key word here is "my;" "my" is not always welcome. I wasn't sure I wanted to learn this lesson because it was difficult to step back yet critical to know where and what needed my attention.
A bonus lesson: When I took the time to invest in the people around me, I experienced incredible energy. When I stepped back and let others take the helm, encouraged their talents, and supported them in their leadership roles, I felt empowered in ways I would never have imagined. Without learning this lesson about patience, I could never have achieved many of my other life goals because I thought I needed to do everything I touched. In reality, sometimes I have to follow, and other times I need to sit out the whole project.
My time also became more productive when I let go of some of the daily responsibilities in my home. I found that my time is better used in enabling other women. I now have two wonderful women who are excellent at handling the demands of my house and everyone in it; they often do a much better job than I of keeping everything untangled. It is possible, if you do not have the means, to barter services (think back to your assets and resources) with loved ones, neighbors, and friends. I still do this, too.
I notice women find letting go difficult; it took me years. During this time, life threw me new lessons and increased my awareness so that finally, I was able to let go. Once I learned it, the lesson became invaluable.
Of course, we can always refuse to learn the lessons, and continue to operate in old, familiar ways. What I've discovered is that by trying to get out of a particular situation too soon, without learning the lesson, it's pretty certain that I'll soon find myself circling back and having to deal with a similar situation with a similar lesson. Life always presents us with opportunities to grow.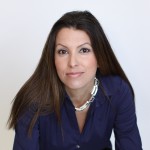 JJ DiGeronimo, keynote speaker for women, based in Cleveland, presents keynote addresses on women in leadership, diversity in business and advancement for women.
Check out JJ's new book Accelerate Your Impact by downloading three free chapters.