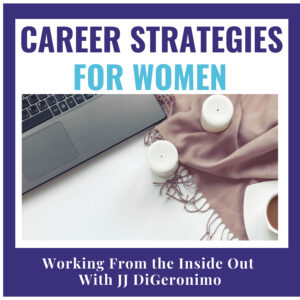 Episode 35: Micro-Dosing Bravery to Expand Your Resilience with Dr. Kristen Lee
There have been so many moments in my career where I could have used a bit of courage, or a "microdose" of bravery. And to be honest, I wish I would have known this week's guest in those moments. I'm chatting with Dr. Kristen Lee, head of the Behavior Science Program at Northeastern University and author of Worth the Risk.
In this week's episode of Career Strategies for Women that Work, Dr. Lee is sharing how to create small acts of bravery and connection to regain self-confidence and the resilience we need to live full and meaningful lives.
Dr. Lee's first TedX talk, The Risk You Must Take, was a turning point in her career. It happened on a snowy Monday morning, and her colleagues and students trudged their way through the New England tundra to hear her share her story. They weren't there for the PowerPoint, the statistics, or the research—they showed up for the community and camaraderie in spirit. That led Dr. Lee to learn even more about the old habits, mindsets, and behaviors, and really dive into the world of risk.
In this episode, you're going to learn:
The difference between living a "what is" life and "what if" life
The benefits of risk taking and building connections
How to create new, meaningful constructs around leadership
Why aligning your values can help grow resilience and help you take the right risks
Dr. Lee's journey is so beautiful and the authenticity that shines through her books is truly a reflection of her own resilience and bravery. Listen to our discussion above or on your favorite podcast platform by searching for Career Strategies for Women that Work.
Taking a risk, whether personal or professional, can be really scary, but we can do it! Connect with me on Instagram – @JJDigeronimo, and share some of the ways you're micro-dosing bravery this week.
Articles + Resources