Sophia Amoruso is the founder of Nasty Gal Vintage and the author of an inspiring business book I'm currently reading called #GirlBoss. Sophia pulls no punches in her story of how she took a vintage clothing business operated out of her bedroom to over $100 million in annual sales in just seven years.
"It takes a lot of hard work to get there, and then once you arrive, it takes even more hard work to stay there."
But she makes the assumption that women reading this book are not afraid of hard work. The part of her story that I love is her philosophy of starting off by saying "no" to everything first. Rather than our usual inclination to say "yes" and please others, she wants to be convinced that the direction is the right one for her and the best way for her is to start by rejecting the idea.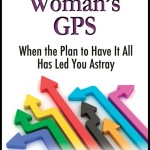 She found out early that what was expected of her, wasn't the direction she wanted to take. If you have read my book The Working Woman's GPS, you know that I took many years of doing what I was "supposed to" by getting the degree, finding a great job, spouse, family, house with 2.5 cars and checking off all of the boxes of what was supposed to make us happy. It wasn't until later that I realized the life I'd carved out wasn't exactly what I needed to make me happy. I was prompted to look in the mirror and do some real self-evaluation.
Sophia shortened that journey:
"I tried the obvious route of hourly jobs and community college, and it just never worked for me. I'd been told for so long that the path to success was paved with a series of boxes you checked off, starting with getting a degree and getting a job, and as I kept trying and failing at these, it sometimes seemed that I was destined for a life in the loser lane. But I always suspected that I was destined for and that I was capable of, something bigger. That something turned out to be Nasty Gal, but you know what? I didn't find Nasty Gal. I created it."
And that is what we need to do. We need to CREATE our destiny. We need to take a page from Sophia's book and determine what that destination looks like and then go after it.
"Abandon anything about your life and habits that might be holding you back. Learn to create your own opportunities. Know that there is no finish line; fortune favors action. Race balls-out toward the extraordinary life that you've always dreamed of, or still haven't had time to dream up. And prepare to have a hell of a lot of fun along the way."

Give yourself permission to select the projects that use your talents in combination with your INFLUENCE and IMPACT center.
Before you say – make sure the project is in line with your goals, influence, and ability to have the most impact.
Dream big – prepare to work – enjoy the journey!