A Retreat for Women Seeking Healthy Strategies to Enrich Our Lives

April 30, 2023 ~ 10-4 PM EST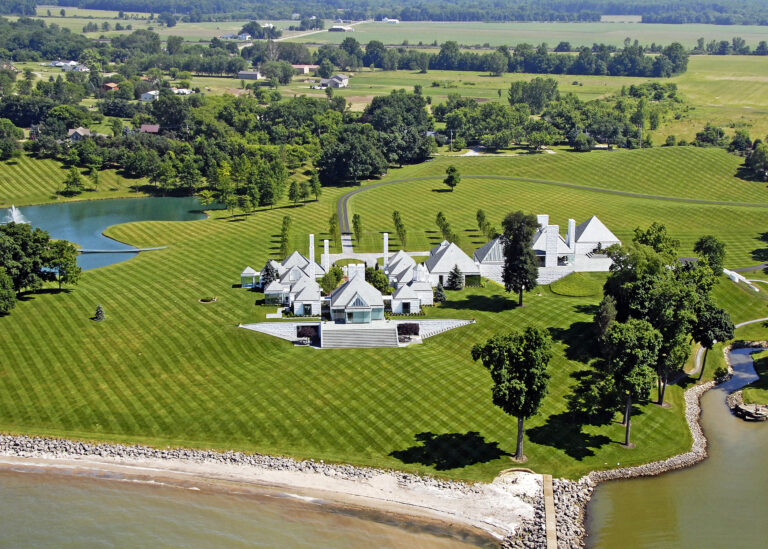 Taking the time to invest in yourself ~ a gift only you can give yourself.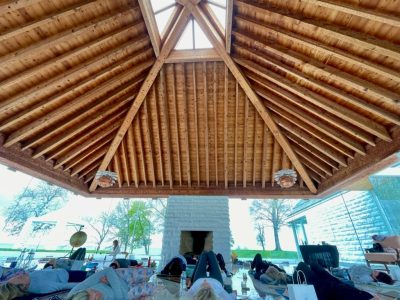 Thriving – A Day for Women Seeking Healthy Strategies to Enrich Our Lives
 Give yourself a gift and join us as we are coming together to:
Cultivate our wisdom.
Honor our journeys.
Embrace our transformations.
The Feminine Journey is not meant to be a solo trip. We thrive together!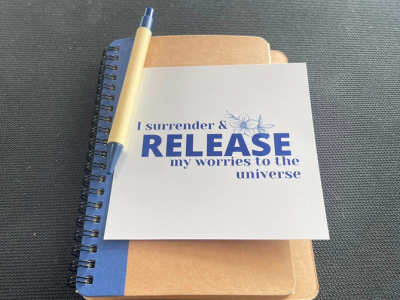 This day is an opportunity to experience:
An amazing estate on Lake Erie with arces of beaches and views,
Award-winning Chef seen on the Food Network
Organic food that heals for Breakfast and Lunch
Natural Oils you can take home, and
Movement and mindfulness practices that integrate our body and mind.
This Sunday will be dedicated to you, a woman on your journey. This will be a unique opportunity to discover your personal aspirations and your fuel stations. The day will start at 10 AM (with the option to arrive 30 minutes early) and end around 4 PM EST.
With a focus on movement, mindset, and meditation, this day will center around new ways to integrate good energy and find alignment as our body matures. The midlife journey often comes with a few twists and turns; practitioners will be onsite to share nutrition strategies, movement recommendations, meditation techniques, and other tools we can use to increase our energy, improve our sleep, and experience joy.
With an agenda designed for learning, sharing, and having new experiences, we want you to leave the estate feeling educated, reflective, and empowered.
Agenda:
9:30 AM Early Arrival
10 AM SolFood Collective Breakfast with Jacquelyn – Her Journey & Approach to Food as Medicine
Welcome and Introductions
Knowledge Is Power: Feminine Journey over 40 – Two Truths and a Lie
Meditation and Movement for the Sacral Chakra
1 PM SolFood Collective Lunch with Jacquelyn – Background Behind the Food 
Oils for the Journey with Lora
Power Up! Your Value, Fuel Stations and Balancing Your Nervous System!
Nature & Meditation
Techniques for Deep Relaxation and Better Sleep/Yoga Nidra with Sound
Release Mediation and Closing the Sacred Space
4:00-4:30 Wrap-up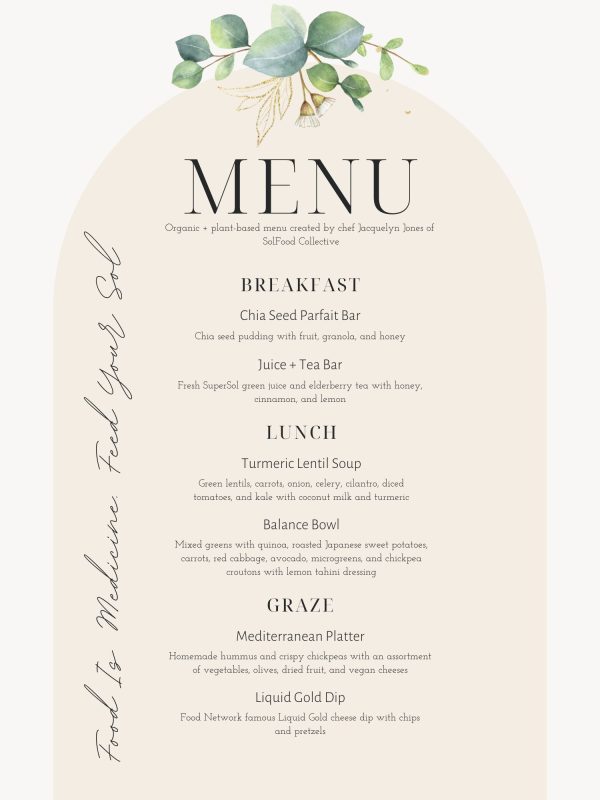 45 Women are Coming Together!
This day was created for you—a busy woman who recognizes she needs more time for self-care! We worked to incorporate time in the day's schedule for Meditation, Breathwork, Restorative Yoga, Journaling, Discussions, and Connection. Regardless of where you are on your journey, this day has something for you to take back with you and apply to your everyday life. And note, there is no pressure to attend all events in the agenda. You can take time to walk to the beach, stroll around the property, or just step outside to journal or watch the birds.
As this is a day created by women for women, we encourage you to bring a girlfriend. Because, you'll receive an extra discount if you book together!
The organic vegan menu has been thoughtfully curated for this day by award-winning Chef Jacquelyn, Founder of SolFood Collective, with the theme of balance, immunity, and gut health.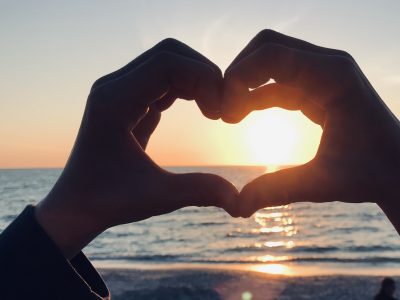 In addition to being an acclaimed chef, Jacquelyn is a health and wellness practitioner who believes in food as medicine. With an inspiring story and a plethora of knowledge, Jacquelyn's food is nourishing and healing, and each dish she creates complements the self-care and wellness focus of this day.
Chia seed parfait bar
Fresh juice
Turmeric lentil soup
Balance bowl – mixed greens, quinoa, avocado, microgreens
Food Network's famous liquid gold dip with chips
Mediterranean platter
Chocolate – dairy and gluten free
This experience is limited to 40 women, so be sure to register early, not only to take advantage of the early-bird pricing, but the first 10 women can pick from an array of gifts including Aveda products.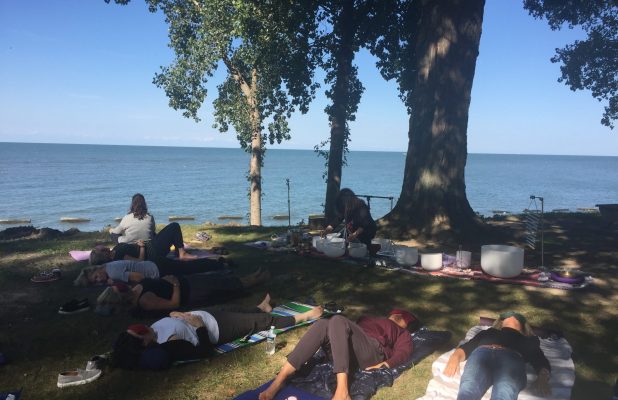 Energy Practitioners & Lightworkers
Jacquelyn
Jacquelyn, founder of SolFood Collective, is a Certified Holistic Health and Wellness Coach/Vegan Chef helping people transition to a plant-based lifestyle and educating people on the benefits of using food as medicine and vegan living. She was featured on The Great Food Truck Race, Season 10, on the Food Network.  
Jacquelyn recently moved back to the Midwest after living in Chicago, Paris, and California over a span of 20 years. She opened a vegan kitchen, located in Perrysburg, OH, where she offers her meal-prep services as well as health coaching services. She also hosts wellness retreats that incorporate movement (usually yoga), meditation, and a three-course, plant-based meal paired with food education. 
Jacquelyn started her journey in health and wellness after she was diagnosed with a crippling autoimmune disease called ankylosing spondylitis, (a.k.a. the bamboo spine) in 2015 and used food as medicine in conjunction with yoga and meditation to reverse her symptoms. She believes what we feed our body is equally as important as what we feed our mind. Living the vibrant life she's always envisioned, she now utilizes her experience, knowledge, and love of food to help others overcome their struggles with health and get on the road to recovery; educates those curious about sustainable vegan living; and provides organic, plant-based meals to the Michigan/Ohio area. To learn more visit solfoodcollective.com
Lisa King
Lisa King is a Yoga teacher, certified in Menopause Movement, and a Menopause Doula/Coach. She provides Perimenopause and Menopause support to help women thrive in midlife; teaches private yoga sessions; coaches women; and leads women's circles and retreats.  Her work is a result of her own journey of integrating mind/body practices to help her navigate the stuff that midlife brought with it: anxiety, mood swings, a changing body, sleeplessness, and even empty nesting.  Lisa's goal is to help women thrive and move confidently in the second season of life through education, raising awareness, building community, collaboration, and teaching yoga and mindfulness practices to women of all ages.  On a personal note, she calls Kentucky home and is a self-professed bibliophile, wife to an amazing guy, mother of two adult daughters, and grandmother to a new granddaughter named Wren. 
Check out her website www.lisakingyoga.com and follow her on YouTube and Facebook @lisakingyoga and Instagram @lisaking_the_literary_yogi.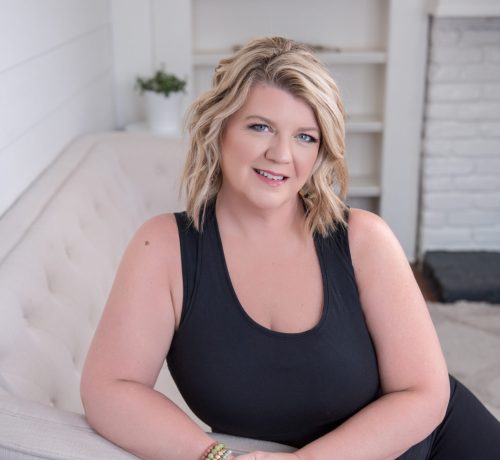 Lora Roeser

Lora Roeser is a believer in the healing and restorative powers of holistic practices—such as the use of naturally sourced essential oils and the beauty of sound—for both the body and the mind. Lora is skilled at playing an array of quartz crystal singing bowls as part of a sonic-immersion experience in elegant, healing sound. Through use of the natural properties and resulting frequencies of the singing bowls, she produces soothing, harmonious vibrations. Lora's background and expertise as an essential oil representative with DoTERRA, as well as her skill and training in the resurgent lost art of healing through essential oils, allows her to use and combine premium-grade oils for both aromatherapy and touch therapy. Her extensive collection of oils not only delight the olfactory senses, but each oil contains a myriad of holistic healing and health-maintenance properties when administered and used as directed—topically, aromatically, or internally. An indulgent delight to all the senses, the full-immersion sensory experience Lora offers is sure to soothe, restore, and energize the body, mind, and spirit.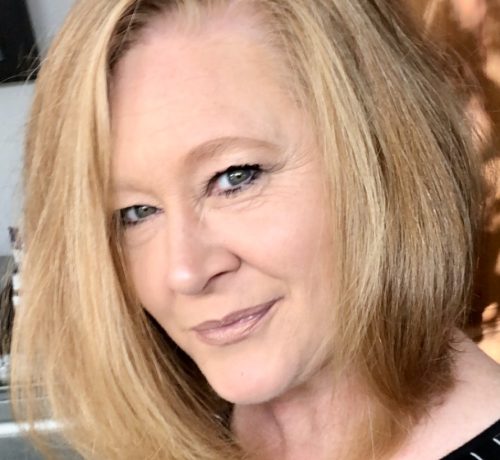 JJ DiGeronimo
With new levels of awareness, JJ has taken her mission to empower more women at more tables to the next level by sharing the spiritual side of her life. JJ knows all too well the external pressures women face, like chasing titles, salaries, and relationships, that can lead to self-doubt, negative self-talk, and demanding schedules. These pressures lead many women to ask, "am I enough?", "What am I doing?" or "Is this it?".
She shares her tried-and-tested strategies to overcome these challenges and help other women do the same.  JJ is helping women dig deep, release guilt, and align with their true gifts through her podcast, Together We Seek, women's retreats, and her new book, Seeking.  She knows that tapping into your inner knowing, you can  rediscover the brightness.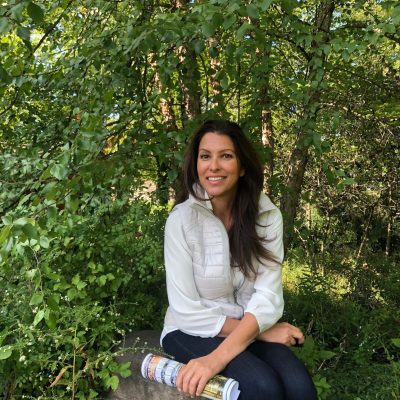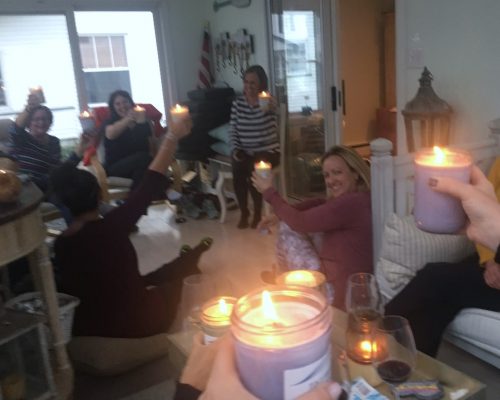 "When we work together to brighten our lights, we illuminate the path for many."
JJ DiGeronimo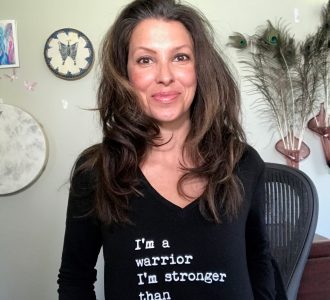 I look forward to seeing you there!
JJ DiGeronimo