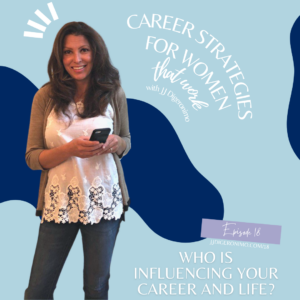 Episode 18: Who is Influencing Your Career & Life?
When you think about your life decisions, your goals, your passions, who do you turn to for advice? Who is in your circle of influence? What energy are they sharing? The people you let into your circle and give your energy to can greatly influence your decisions, your next steps, where you should hold on, and where you should let go. They can have a huge impact on not just your career, but so many things beyond it. That's why, in this week's episode of Career Strategies for Women That Work, we're going to take a hard look at who's supporting and influencing you and how you're reciprocating energy back out into your personal and professional community.
When I sat down to write my first book, The Working Woman's GPS, I realized I needed to do some inventory on who I had in my life. Most of us will think this is something we can just figure out on our own, but, trust me on this, it really takes putting pen to paper. It's so important to figure out who supports you now, who supports the direction you're headed, and who is genuinely excited for you to make the next leap in your journey. And, of course, I want to help you with this, so I've included a worksheet download for this episode to help you take that inventory; get it here.
With this episode and worksheet, you'll learn how to take inventory of the people in your life, in six steps:
Be honest with yourself: what energy are you attracting?
List out the people in your life.
Write out how each person makes you feel.
Evaluate your energy around each person.
Identify who supports your journey.
Decide who will continue with you on your journey.
Ultimately, I want this episode to inspire you to not just reflect on the people around you, but also reflect on the energy you give out and how you support others. Working from the inside out can really take you to new levels in your life and in your work. If you support other people, you often support yourself and you will attract the energy you need to create momentum for where you want to go.
Tune in next time and make sure you connect with me on Instagram – @JJDigeronimo – I'd love to hear what insights this inventory brought you!
Articles + Resources
The Working Woman's GPS: When the Plan to Have It All Leads You Astray – JJ Digeronimo