What is your professional brand in business and how important is it to your future career? This is one of the most frequently asked questions that I hear when addressing women in business settings and at conferences.
First: what is your professional brand?
When someone hears your name, what is the first thing that comes to mind? Your goal is that when people meet you or hear your name, they immediately associate you with the industry and expertise for which you want to be known.
The initial step is to decide what that is and then to work toward creating a name for yourself that represents that band.
Second: how important is your professional brand?
In a word…critical. As I said, this is my most commonly asked question and so I created a short video answer. Check it out:
Third: What can you do if your personal brand is not how you want to be known?
This is tough but not insurmountable. One of the women I work with frequently found herself in an awkward situation. She'd been promoted to a Director level position and her boss was grooming her for advancement. However, due to a corporate shake up, she landed a new boss who didn't feel the need for a Director. Rather than remove her from her position, he gradually turned her role into that of an executive assistant. She became known for things she really didn't want to be associated with. Where she was once considered an innovator, leader and great communicator, she became an excellent meeting planner and gopher.
Luckily, as is common in business, he wasn't her boss long, but the damage was done. How did she manage the situation? She continued to nurture relationships with leaders in other departments, she sought out sponsors in other areas of the company who did know her value and would frequently ask for her assistance on special projects. She soldiered on. When her boss was replaced, she was poised for yet another promotion into a different department and has since opened her own successful business.
There may be times when circumstances or people try to mold your brand into what they want or need. Remember whose brand it is…YOURS.
For additional information on creating a brand and promoting yourself, check out these articles:
Creating a Personal brand plan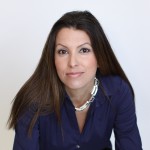 JJ DiGeronimo, keynote speaker for women, based in Cleveland, presents keynote addresses on women in leadership, diversity in business and advancement for women.